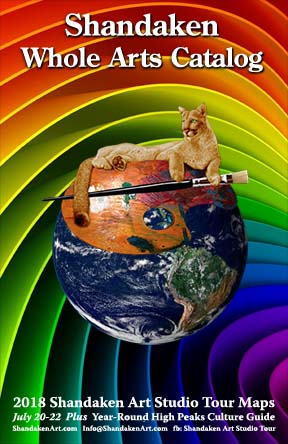 Contact Director of the Shandaken Studio Tour
Adelinda Hyde rides Dave Channon's "Lightningbolt" at the

Open Market Show through Jan 31

Main St. Phoenicia at the corner of Rt 214 - The old Phoenicia Pharmacy.
Look for new works added over time, and a large new show opening in the Spring.

Shandaken's Newest Art Park:

"Art Info Depot @ Mt. Tremper Train Station"

On Rt. 28 just west of Emerson Resort

Hosted by Rail Explorers

Sculptures by Susan Buroker, James Meyer, Sam Tufnell, Herrat Sommerhoff and Dave Channon.
Go to artist, map, and gallery pages to set up personal artist studio visits throughout the year. Visit our Facebook Page
---
---
Reviews from 2015: July Chronogram Kaatskill Life Magazine
Visit the CIC Art Park! Catskill Interpretive Center in Mt. Tremper - Now open 9:30am - 4:30pm, 7 days a week. Call for info: 845-688-3369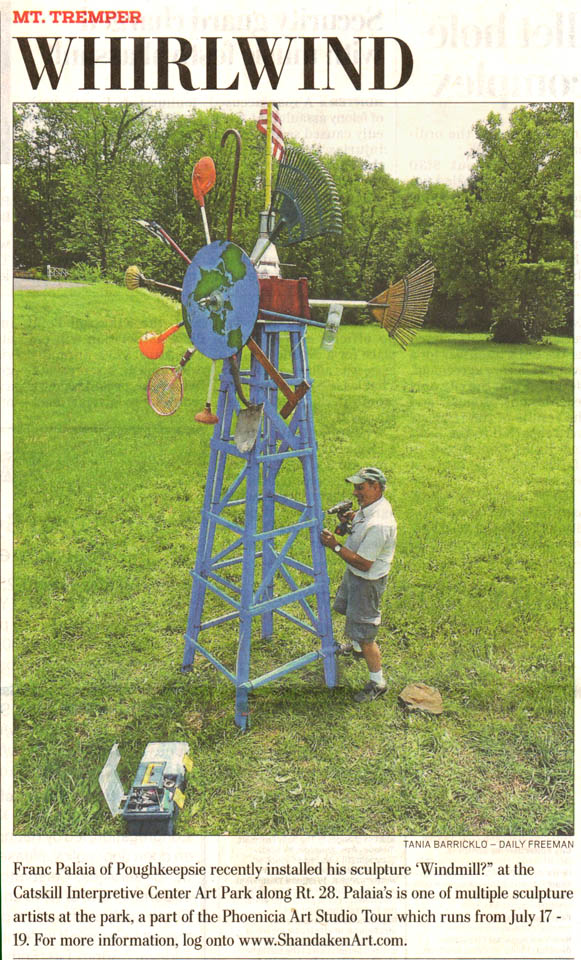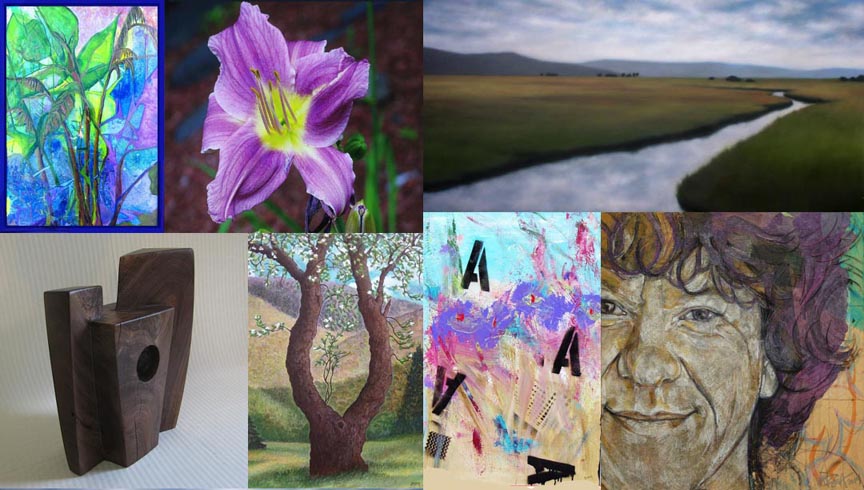 ---
Art Workshop Packages at the Emerson Resort & Spa
Catskill Views Pastels Workshop with Peter Clapper,
April 16-18
Light on the Esopus Creek Landscape Oil Painting Workshop with Karen O'Neil, May 21-23, June 11-13, and July 30 - August 1
Autumn Reflections on the Esopus Creek Oil Painting Workshop with Karen O'Neil, October 15-17
Mt. Tremper, New York (January 23, 2018) - The Emerson Resort & Spa is pleased to announce the 2018 art workshop package schedule. The new line-up of specially designed art packages follows on the heels of last autumn's inaugural art workshop "Fall Foliage Landscape Oil Painting" taught by Mary Anna Goetz.
Each workshop includes demonstrations by the instructor, instruction on composition and design, individual guidance and critique and guidelines for the care and maintenance of artwork and supplies. Workshop participants will enjoy a 3 night stay at the Emerson, with the third night free. A guided tour of the Emerson art collection is also a highlight of the package. The three-night package starts at $907 and in most classes includes supplies. All skill levels are welcome.
About the Artist/Workshops:
Peter Clapper is a graduate of the Massachusetts College of Art and has taught painting classes in still life, landscape, portrait, and the figure. He has also taught drawing and pastel classes in still life, portrait, and figure in New York and New Jersey. His Catskill Views course incorporates the natural surroundings of the Catskill Mountains and their environs as viewed from indoor studios at the Emerson.
Karen O'Neil's passion for painting light and color began as an art student. After earning a BFA from Massachusetts College of Art, O'Neil studied in Provincetown with Henry Hensche, unparalleled colorist and winner of the Pulitzer Traveling Prize and Halgarten Award. Artist residencies at Millay and Woodstock School of Art followed. O'Neil's work is represented in numerous private and corporate collections worldwide and has been featured in many print publications and blogs including The Artists Magazine and The Jealous Curator. Working outdoors on site, the Light on the Esopus Creek workshop focuses on scale, editing, and blocking form to record the luminous and changing light of the Catskills. Working quickly, students will be encouraged to start paintings at different times of day, and as light changes. O'Neil's Autumn Reflections on the Esopus Creek workshop focuses on the spectacular color relationships between land, water and sky that are unique to the Catskill Mountains in October.
For reservations and/or more information contact the Emerson Resort and Spa Reservations department at (845) 688-2828, option 0.
Press contact: Posie Strenz, pstrenz@emersonresort.com / (845) 688-2828, ext. 7602
About Emerson Resort & Spa
Surrounded by the splendor of the Catskill Mountains, the Emerson Resort & Spa is a hidden treasure located a mere two hours from Manhattan. The resort brings the Catskills inside with stunning views, open spaces and an earthy color palate. Featuring spacious accommodations in the contemporary Inn and Adirondack-style Lodge, Emerson guests also enjoy an award-winning Spa, shopping in the Country Stores and the World's Largest Kaleidoscope. Seasonal activities are plentiful and include cross-country skiing, snowshoeing, hiking and biking. Urban pursuits are satisfied by exploring the nearby towns of Woodstock, Phoenicia and Saugerties. The Emerson's signature restaurant, Woodnotes Grille, makes a name of Catskill Creative Cooking with locally sourced foods prepared with a twist, and craft cocktails that are an experience as well as a drink. Overlooking the Esopus Creek and one of the region's most magnificent peaks, Mount Tremper, the Emerson provides a memorable yet affordable respite from the demands of the outside world. The Emerson is also an idyllic location for special events, including corporate retreats and destination weddings. Dogs are welcome. For more information please visit http://www.emersonresort.com and for reservations call (845) 688-2828.

---
.